Babies have very little control over their hands. They often scratch their faces and that's painful and leaves mark on their faces. Parents are often found worried about their toddlers hurting themselves as their nails grow so rapid that you need to trim them twice a week.
David Geller, a pediatrician in Bedford, Massachusetts says "It gets serious when they put their fingers in eyes. It can hurt their cornea. Even the scratches on skin can turn into infections."
Using the adult nail clippers can't be a good choice considering their skin and tiny little fingers.
Things to consider before buying a nail cutter
Size of the nail clipper should be small and fit for the little fingers of your kid
Handle size should be large enough to provide a firm grip to the parents
Torch or lighting for cutting their nails in proper light
Magnifier lenses for a clear view of the nails
Decide whether you want to buy a mechanical or electric filer. Parents fail to keep their baby static while doing the manicure. In such cases, electric filer comes handy.
Best electric nail trimmers for baby in 2019
Currently there are many nail clippers in the market. Electric nail clippers have replaced the traditional one. However we are listing the top picks with their review and ratings.
Before you buy an electric nail filer for your baby
Check if you can control the motor speed as per your convenience.
Check if it is suitable for the age of your baby.
Check the battery duration, how many batteries it needs.
How silent the motor is. Make sure the vibrations created during the manicure do not become irritating for the baby.
1. Electric nail filer from Cherish
This compact electric device is a perfect choice for trimming your baby's nail while having fun with them. It is extremely quiet and safe (almost zero vibrations while trimming the nails). It has speed control with 4 different filing discs to chose from.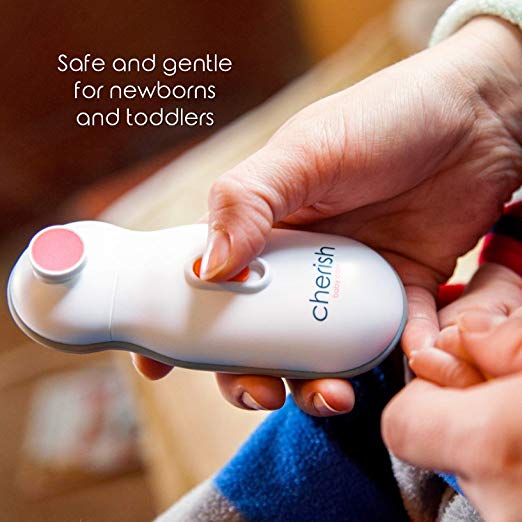 Pros
Extremely quiet motor
Good grip over the handle
Multiple filing discs as page the age of the baby.
Extremely low chances of damage or harm to baby nail-beds.
Cons
No torch or magnifying lenses
2. Baby electric nail filer manicure set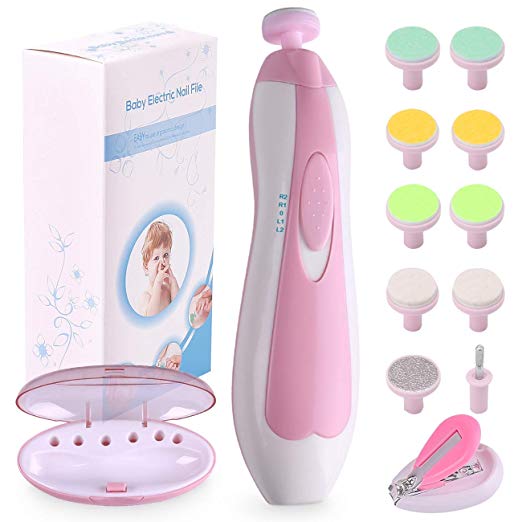 This is one of the best selling items in electric nail clippers section. It has a motor with adjustable speed and 6 different grinding heads for babies of different age. Even adults can use it.
Pros
Electric motor with adjustable speed
Good grip over the handle
Makes very little sound so you can trim the nails when your baby is sleeping
Gentle grinder and a torch to ensure that you won't cut baby cuticles or nail beds.
Cons
Vibrations of the motor are disappointing
Mechanical nail scissors/filers
Using scissors or mechanical nail filers is the traditional way to cut your baby's nails and it is safe too, if you take care of these important points while using mechanical baby nail filers:
Before you buy a mechanical nail cutter
There should be no sharp edges on the cutters or filers. Prefer rounded clippers or cutter.
The size of the product should be small enough to fit perfectly to the babies nail.
It is good to have Led lights or magnifier lenses as they help you do the job safely.
Make sure you have a good grip over the edge you are going to hold. Large edges give you a better control
1. Baby Nail Kit by ARRNEW
It is a 4 in 1 manicure set. Fingernail clippers, scissors, nail file, and tweezers are packed in one set.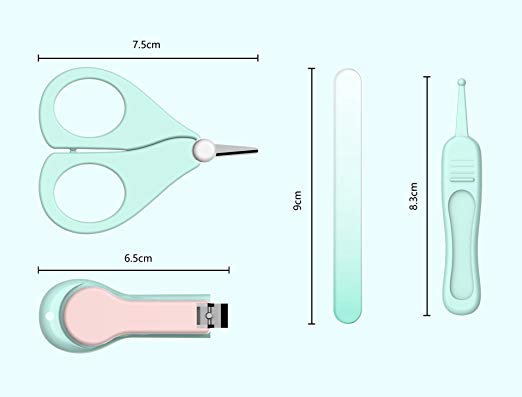 Pros
Price is low
Suitable for newborn's fingers
Rust free stainless steel blades
4X magnifier lens for clear view of the nails
Cons
Nail cutter edges are sharp, it may cut the cuticles.
2. Red Cross Deluxe Nail Clipper with Magnifier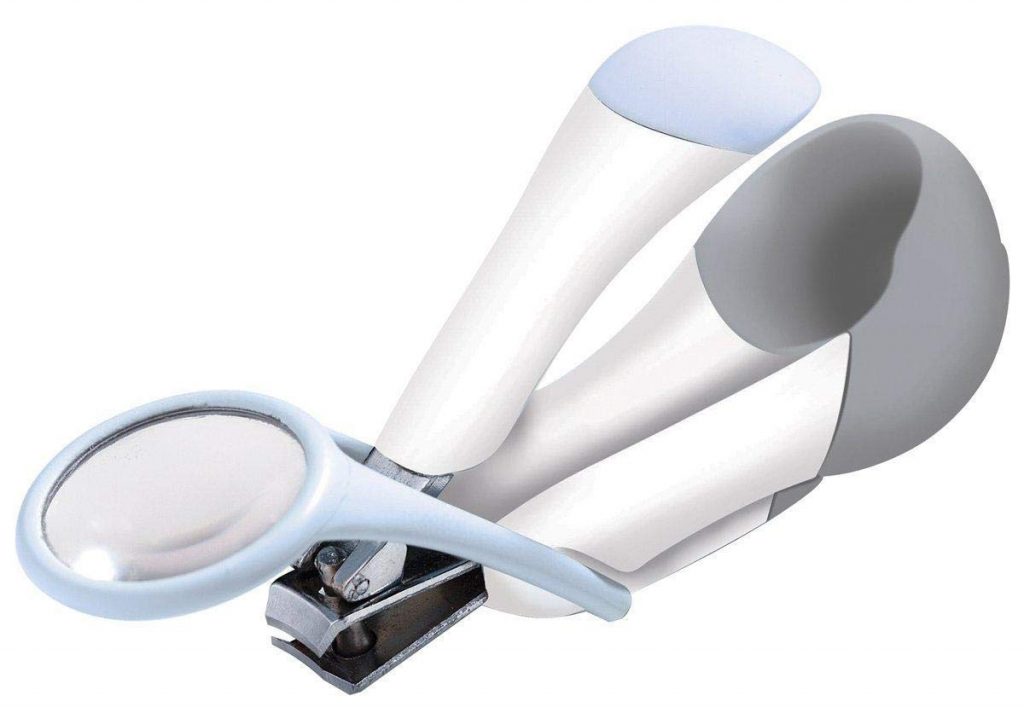 Pros
Price is low
Suitable for newborn's fingers
Rust free stainless steel blades
4X magnifier lens for clear view of the nails
Cons
Nail cutter edges are sharp, it may cut the cuticles.
Edge is small and slippery
Magnifying lens is not as good as they claim
3. Simba Baby Safety Scissors with Circular Cutter Head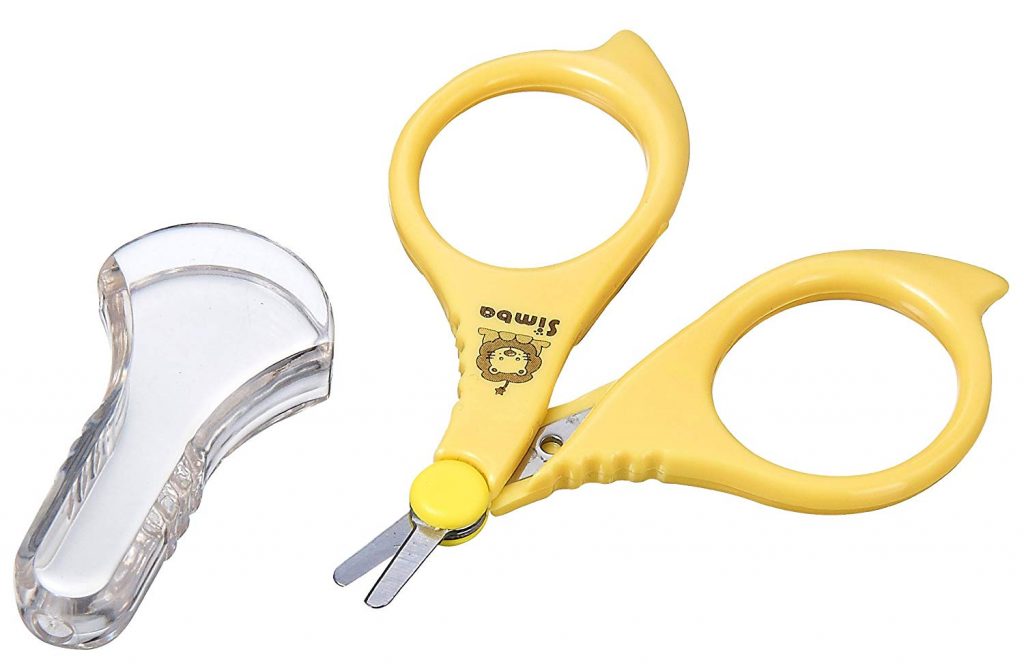 Pros
Scissors with circular head
Large edge to fit adult's finger
Cons
Tough to use on hard nails
Frequently asked questions