Fashion knows no boundaries. Our team at TheKidling has constantly been working to establish a fast, cost-effective & reliable global shipping medium for our products. Currently, we're offering FREE SHIPPING to 56 major countries and are constantly expanding.
The best part of the deal? We charge absolutely nothing in addition to the product cost. No minimum cart value so that you can shop hassle-free without any hidden terms or conditions.
How it works
All international orders are shipped from our warehouses mainly located in China, USA and Russia. Here is how we process an International Shipping.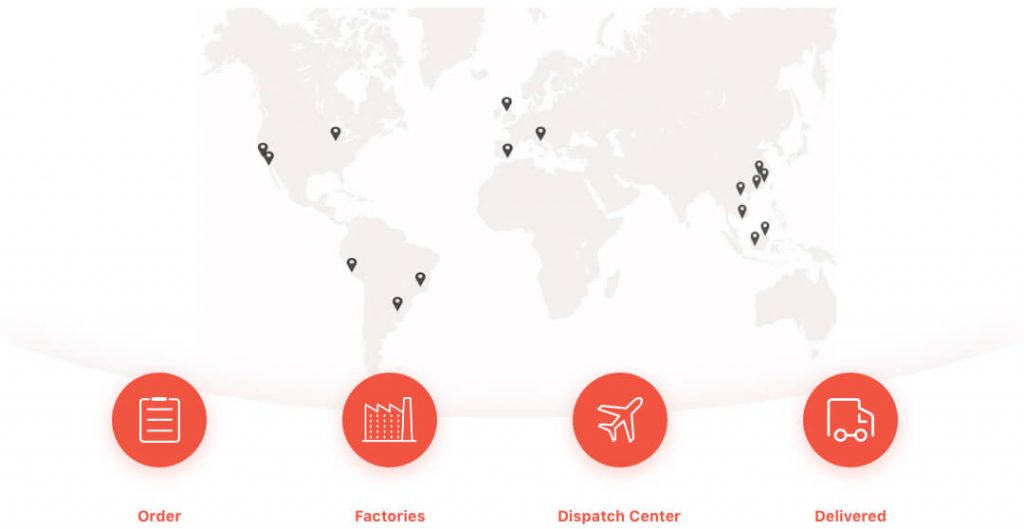 Make a note that all international purchases are prepaid and we take care of shipping and customs.
Shipping Time
If your ordered Item falls under the category of International Shipping, we usually process your shipping after payment confirmation.
Within 48-72 hours of payment confirmation, we ship your order with a tracking ID. You will be able to see real time updates on your order at our website here. Once the item is shipped, it takes 6-14 days to arrive at your location.
We are constantly pushing ourselves to make sure you receive the fastest shipping as it has been found that some orders take longer than mentioned time to arrive. You can always contact us at WhatsApp or Messanger platform to know the status of your order.
International Payments
Although Cash on Delivery option is available for selected PIN Codes. We accept All major international cards with our secure payment gateway.
Additionally, You can also pay via Paypal payment gateway.
Returns & Refunds
We do accept replacement of items if the product you receive
is different from what we have mentioned
is damaged or in bad condition
has been called off by the company (Safety standards)
In all the above cases, you will be issued a free exchange of product without any additional fee. All you need to do is to send the product back to our Office, once we get it, we will contact you to issue another one.
Delayed delivery or Package loss: We offer unconditional refund on package loss/delayed delivery under our 60 days shipment protection plan which states, if a product doesn't arrive after 60 days of payment processing, we will issue 100% refund back to the customer's account assuming the package has been lost.
Please make a note that refunds on Internationally shipped items are currently not available. If you think your case is rare, we encourage you to contact us on WhatsApp or Messanger and we will certainly find a solution for you.